Welcome to Colorado Motocross Magazine
Colorado Motocross Magazine is Colorado's premiere resource for the sport of motocross across Colorado and Southern Wyoming. Between the covers of the monthly publication, you will find interviews with Colorado's top riders, coverage of local races, training tips, monthly contests, and more! Pick up a copy at your local motocross retailer, or stop by our tent at local events.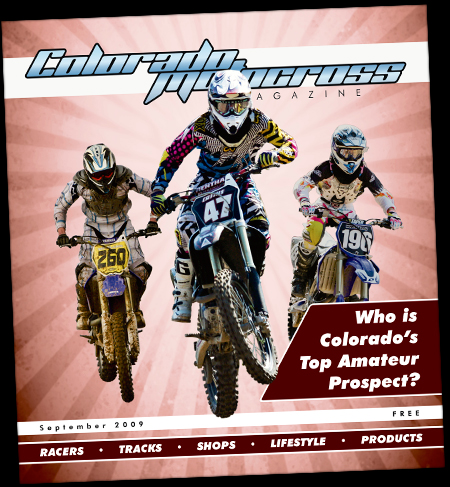 This Month!
In this issue, you'll find a pictorial retrospective of Kevin Hall Junior's motocross career, equipment reviews, training tips, checking valve clearance on a four-stroke engine, Greeley Supercross, Wild Rat and August 9th Supermoto race results, a new old school photo contest, and plenty more!
About Us
This website will act as a supplement to the magazine. It will include video footage, additional photos that aren't included in the publication, training articles, and a feature on a new rider each week. Be sure to stop on by often, as we will update this website frequently.
Thanks for checking us out, and for supporting the sport of motocross.
To contact us, please email info@comxmagazine.com

For more information on getting your own Colorado Motocross Magazine t-shirt,
please email info@comxmagazine.com